The Isle Casino Hotel used to be the largest casino in Colorado but has now had the top spot pinched by the Ameristar Casino. Nevertheless, the Isle Casino still boasts over 900 slot machines, 22 table games, and 14 poker tables across two floors, complete with several dining options and bars. There is also a hotel on the premises with 404 rooms. If you are after a flashy casino with lots on offer, the Isle Casino Hotel could be your spot.
The casino is owned by Eldorado Resorts Inc. (ERI) who also owns Black Hawk's Lady Luck Casino. The two casinos are actually connected by a skywalk!
Address: 401 Main Street, Black Hawk, CO 80422
Opening Times: 24 hours, seven days per week
Hotel: Yes
Loyalty Program: Fan Club loyalty program
Gaming: 900 slot and video machines, 22 table games, and 14 poker tables
Restaurants and Bars: Starbucks, Farmer's Pick Buffet, Dash Café, Simply Yummy Baking Company, and Roxy Restaurant & Bar
---
Casino Games
Slots
The Isle Casino Hotel is home to over 900 slot machines with one of the biggest game floors in Colorado. Slot machines range from classic reels up to the most modern games and run in denominations from pennies up to $100.
Table Games
There are 22 games tables available at the Isle Casino inclusive of Blackjack, Roulette, and Craps. They also play different game variations such as Buffalo Blackjack and Double Deck Blackjack to add variety and excitement. Special table games are also on offer such as their Play Craps Free Craps where there are no craps! The come-out roll cannot be a losing roll, and dice combinations of 2, 3, 11, and 12 now win you points. You can also play the casino's electronic Blackjack, Roulette, and Baccarat games. There is a lot of variation and a little something for everyone.
Poker Room
You can also play poker in the Isle Casino Hotel which holds 14 poker tables. They not only offer the popular Texas Hold'Em, but also have tables with Bonus 6, Three Card Poker, and Mississippi Stud variations. The tables cover a range of limits and blinds so there is something for everyone's budget. If you are an avid poker fan and fancy playing for six hours straight, the Isle Casino Hotel offers you a special deal. You can choose either to receive a $59 hotel rate for a future stay in the casino's hotel or can get a $20 reimbursement for bus travel.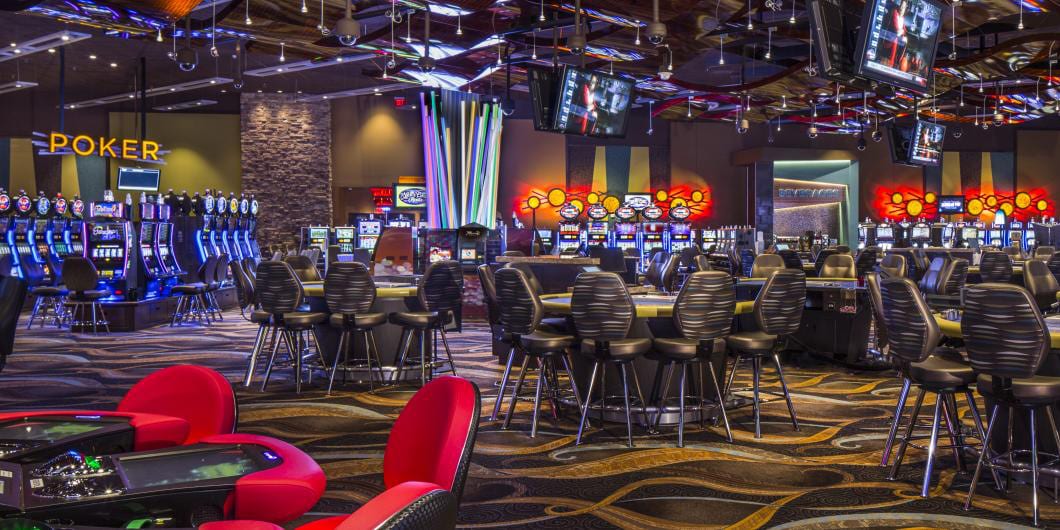 In addition to the live poker, every Friday evening at 6pm there is a Texas Hold'Em poker tournament with a buy-in of $60, and the option for a $10 additional add-on if you want more chips. Prize pools vary based on the number of players that register, but poker tournament payouts are notoriously high in Colorado compared to other states.
The poker room itself is high-end. Players are entitled to free beverages and tableside food during play, available 24/7. There is also a dedicated smoking terrace and restroom for players. Sports TVs are also located around the room so you play as you watch your favorite teams simultaneously.
Casino Loyalty Program
The Isle Casino Hotel runs a loyalty rewards program for its members called Fan Club. Membership is free and you can sign up at the Cashier Services on the first floor of the casino. Once a member you earn points for every slot you play, every table game you bet on, and every hand of poker you try your luck at. You can exchange points for free play, cash prizes, casino dining experiences, hotel stays, and more. The Fan Club loyalty program is also in place at the Lady Luck Casino in Black Hawk, and so points can be spent and earnt at both locations.
The membership program works as a five-tiered system. As you earn more points, you progress up through the tiers with the Millionaire tier being their highest. You sit in the same tier for a year which is determined by the points you earned the previous year. There are more bonuses, exclusive events, and special offers available the higher the tier you are in. At the moment, players sitting in the Platinum and Millionaire tiers can receive a complimentary seven-night Celebrity Cruise around the Bahamas or Caribbean, and Gold members can get a discounted rate. If you are going to be a regular at the Isle Casino Hotel, it is definitely worth signing up.
Sportsbook Services
Sports gambling is now legal in Colorado! However, the Isle Casino has yet to offer any sportsbook services to guests. The casino did secure its master license in March 2020 and so will be rolling out sports betting on-site in the near future. In regard to online sportsbooks, Eldorado Resorts Inc. has partnered with William Hill to provide internet sports gambling, though currently nothing has been launched in Colorado.
Hotel
There is a hotel attached to the Isle Casino Hotel, which is home to 404 luxurious rooms, 164 of which have recently undergone renovations. All rooms come complete with free Wi-Fi and televisions, modern décor, and ample space. Room options include:
Luxury King Room: Sleeps 3
Luxury Two Queen Room: Sleeps 4
Junior King Suite: Sleeps 3 – larger size and in-room jacuzzi
Junior Two Queen Suite: Sleeps 4 – larger size and in-room jacuzzi
Currently, the casino offers a free upgrade from a luxury room to a suite from Sunday to Thursday. All advance bookings also receive savings of 20-30%, so it is worth booking in advance. There is also a "stay more save more" promotion on where you are awarded discount depending on the length of your stay:
10% off one night
20% off two nights
30% off three nights
Additionally, all AAA members, members of the military, and senior guests receive discounted rates.
Dining and Bars
This Isle Casino Hotel does not fall short when it comes to wining and dining, as you have all the following to choose from:
Starbucks: Serving all Starbucks signature coffees, inclusive of the only Nitro Cold Brew you can get your hands on in Black Hawk. Opening times are from 6am – 10pm Sunday to Thursday, and 6am – 1am Friday and Saturday.
Farmer's Pick Buffet: A high-quality buffet-style dining experience made with fresh ingredients from local farmers and markets. The buffet serves over 60 items featuring cuisines from around the globe for breakfast, lunch, and dinner. From Friday to Wednesday they also serve all you can eat crab, and Thursdays are Prime Rib Night.
Dash Café: A more casual atmosphere selling sandwiches, burgers, and pizzas amongst other snacks. They offer their full menu from 11am – 1am Sunday to Thursday, and 11am – 4am Friday and Saturdays. Outside these hours, a grab-and-go menu is available to get a quick bite between games.
Simply Yummy Baking Company: Think beautiful cakes, pastries, cheesecake, cookies, and more home-baked goodies. This place is sure to satisfy your sweet tooth.
Roxy Restaurant & Bar: This is a brand-new martini bar that offers a fine dining experience. Imagine a menu full of gourmet dishes and mouth-watering recipes. They also have a selection of 52 martinis to choose from.
There is also a restaurant in the connected casino, Lady Luck Casino. The two casinos are linked via a climate-controlled skywalk, so it is easy to walk between the two and make the most of the gambling and restaurants available.
Online Gambling
As of 1st May 2020, online sports gambling was legalized in the state of Colorado. The Isle Casino Hotel received its master license back in March which allows the casino to offer sports betting. However, the casino has yet to launch online sportsbook services. This should be made available in the near future. Eldorado Resorts Inc. has joined forces with William Hill, so expect to see this duo bring sports betting to the Colorado online sportsbook market soon. In the meantime, take a look at the other live online sportsbooks and mobile apps.
Regarding online casino games such as online slots, poker, and table games, playing these online for real money remains illegal in Colorado. The Isle Casino Hotel website, therefore, does not offer any online casino gambling options. Visit their land-based casino to experience all that is on offer.
FAQs