Read our comprehensive review to find out all there is to know about DraftKings Colorado including welcome bonuses, sports coverage, and how to win real money online. Find out why this site is top in the US!
DraftKings is a well-renowned daily fantasy sport (DFS) and sportsbook website that is rapidly expanding across the states. Recently, DraftKings has collaborated with SBTech allowing them to offer an even wider range of betting options and make them the only vertically integrated sports betting platform in the US.
While DFS has been legal in Colorado since 2016, a bill passed last November means sports gambling is now legal. Online and retails sportsbooks can launch as of 1st May 2020, and DraftKings Sportsbook debuted on this release date, being one of the first Colorado sportsbooks to go live. Their full website can be accessed from inside the Centennial State, offering a range of DFS contests and sports betting options.
Website: www.draftkings.com
Type of site: Sportsbook and DFS site
Welcome Bonus: $1,000 plus free $3 contest entry
Land-based Partnership: Golden Gulch Casino & Golden Mardi Gras Casino
Colorado Launch Date: 1st May 2020
---
Bonuses and Promotions
DraftKings offers a competitive triple welcome bonus for all new customers totaling up to $1,000!
| | | | |
| --- | --- | --- | --- |
| Max Bonus Amount | Bonus Type | Promotional Code | Wagering Requirements |
| $500 | 20% Deposit Match | None – Automatically Applied | 25x |
| $500 | Risk-Free Bet | None – Automatically Applied | 1x |
| $3 | Free Contest Entry | None – Automatically Applied | N/A |
For the 20% deposit match bonus up to $500, DraftKings will match the initial deposit amount by 20%. For example, depositing $400 will give you $100 bonus credits. To obtain the maximum $500, $2,500 must be deposited into your account. The minimum deposit amount is $5, and the bonus is only applicable to the first deposit made. One thing to note is what the bonus funds will not all be made available at once. DraftKings will release funds incrementally; $1 of bonus funds will be released for every $25 wagered on their website. There is a 90-day time limit on meeting these play-through requirements.
The $500 risk-free bet acts as a safety net and guarantees that if the first bet placed does not win, DraftKings will credit your account with the value of your bonus up to $500. For example, if your first wager were a losing bet of $100, DraftKings would credit your account with $100. This is great as it means you can gamble on risker bets with better odds and not be worried about losing money. If the bet comes in, you receive no bonus but can keep your winnings! The bonus funds cannot be withdrawn as cash and must be used to place further bets.
If using the DFS portion of DraftKings, you will also get granted free entry to a $3 contest. You have a year to use this and any money won from the competition can be withdrawn as cash. The bonus itself cannot be exchanged for real money.
DraftKings Sportsbook
Sport Coverage
DraftKings Sportsbook covers almost all sporting events and provides exceptional sports betting options. You can place wagers on all the following sports:
| | | | | |
| --- | --- | --- | --- | --- |
| Athletics | Australia Rules | Bandy | Baseball | Basketball |
| Volleyball | Cricket | Curling | Cycling | Darts |
| Esports | Boxing | MMA | Football | Golf |
| Handball | Hockey | Horse Racing | Lacrosse | Motor Sports |
| Netball | Olympics | Rugby League | Snooker | Soccer |
| Speedway | Surfing | Swimming | Tennis | Winter Sports |
Many sporting events have been postponed or canceled because of the coronavirus pandemic, and so there limited sports betting options at the moment. The dominating sport in the first week of legal Colorado sports gambling was table tennis, followed by UFC. The above markets will become available as sporting events start up again in the state and across the globe.
Wagering Options
Alongside an extensive range of events to bet on, DraftKings Sportsbook also offers many different types of wager to ensure gambling is exciting and enjoyable. In an interview with North Jersey, co-founder of DraftKings, Matt Kalish, said: "There are dozens of markets within the game, real-time priced in-game wagers. And there is the capability of cashing out bets already made. It's really an amazing platform with amazing depth."
Types of bets available on DraftKings Sportsbook include:
Moneyline Bets
Spreads
Totals
Props
Parlays
Teasers
Round Robins
Futures
In-Play Bets
"Flash Bets"
In-play betting is popular overseas and is where wagers are placed during the game with odds updated in real-time depending on how athletes and teams are performing. For example, you can watch the first half, get a feel for the game, and then cast your bets. As of June 2019, DraftKings Sportsbook also introduced Flash Bet, an even more rapid form of sports gambling. This gives you the option of ultra-short-term bets which usually result in minutes but currently is exclusive to tennis. There is also an option to cash out early to avoid any last-minute surprises or cut your losses if the bet is losing.
Sports Betting Pools
DraftKings Sportsbook also adds offers sports betting pools which are a mash-up of traditional sports betting and DFS contests. You pay an entry fee and then make predictions for the outcome of several wagers. The players who guess the most correct outcomes receive a payout, similar to DFS tournaments.
For example, previously there had been an NFL sports betting pool which costs $3 to enter with a prize pool of $10,000. All participants had to predict the outcome of 15 NFL games, and those with the most correct predictions received a portion of the prize funds.
DraftKings Daily Fantasy Sports
DFS Contest Types
DraftKings, along with its main competitor FanDuel, is one of the leading DFS sites in the United States. Players build team line-ups from a selection of real-world athletes, and teams partake in tournaments to win real money. How well your team does in the contest depends on the athletes' performances in real sporting events. DraftKings allows you to switch up your team daily so you are not stuck with one line-up for an entire season.
Here is a summary of the multiple different contest options on the DraftKings website:
Beginners Only: For players who have participated in 50 or fewer competitions for each sport
Guarantees: Fixed prize pool regardless of the number of participants that sign up
Head-to-Head: Contests against one other player where the winner takes all
50/50s: Top half of performers take home double the entry fee
Multipliers: Top percentage of players take home a multiple of the entry fee. For example, in 3x multipliers, the top third of players take home 3x the entry fee. Similarly, in 10x multipliers, the top 10% of players receive 10x the entry fee
Leagues: The higher you rank, the larger the payout. The size of the tournament governs how many players receive winnings
Qualifiers: Winning a qualifier grants free entry to larger tournaments
Steps: Four-tier contests where players play to move up through the levels. Buy-in at step 1 costs $2 but climb to step 4 and you win $200
Tiers: Team line-ups must be selected from certain tiers that athletes have been categorized into
Showdowns: Contests with a salary cap but where players have five flex spots to choose athletes from multiple positions
NFL Flash Contests: Rapid DFS contests that start after the NFL game has commenced
Major DFS Contests
There are also major DFS contests held for all popular sporting events. These are tournaments with large, guaranteed prize pools and receive upwards of 500,000 entrants, so the fight for the top spot if difficult! However, payouts are huge often reach upwards of $1 million.
Examples of major DFS contests on the DraftKings website are:
$10 Million NFL Millionaire Maker: Weekly contests with a $20 entry fee with a $2 million first-place prize, however, the top 20% of participants receive some payout.
$10 Million Fantasy Football World Championship: Contest entry only granted via winning qualifier games. The tournament gives a $2 million first-place prize and limited to 180 participants. Even the player finishing last takes home $15,000.
$4 Million Fantasy Baseball World Championship: Contest entry only granted via winning qualifier games. The tournament gives a $500,000 million first-place prize and limited to 100 participants. Again, the losing player still gets a $15,000 payout.
DFS Loyalty Rewards
DraftKings DFS also has a loyalty program in place. Every dollar you play in contest entry earns you daily rewards. On top of that, the more you win contests, the more achievements you complete, and the more you get rewarded! You will automatically be enrolled not he program when you create a DraftKings DFS account. Here is what you can earn from the program:
Account Registration
Signing up for a DraftKings account is simple:
Go to the DraftKings website and select the option to sign up for either a DraftKings DFS or DraftKings Sportsbook account.
Complete the online registration form to create your account.
Credit your account with funds using one of the deposit options discussed below and start placing wagers.
If you want to use both DraftKings Sportsbook and DraftKings DFS, you can register for both accounts and link the two. This makes funds transferable between the two and you can easily toggle between them.
Deposit and Withdrawal Methods
DraftKings offers a range of deposit and withdrawal methods, although compared to other online sportsbooks and DFS websites it does full slightly short. The available options are:
Visa & MasterCard Payments
Online Bank Transfers
E-Wallets such as Skrill or PayPal
Prepaid Cards
Wire Transfers
When depositing funds, all these methods make the funds available instantaneously, excluding wire transfers. Wire transfers take 1-2 days to process but are more secure if depositing large amounts. Funds are transferable between your DFS and Sportsbook accounts. Withdrawing funds takes slightly longer, typically between 2-8 business days. If withdrawing winnings over $2,000, it can take up to 3 weeks for the funds to reach your account.
Interface and Navigation
Once registered and on the DraftKings website, navigation is simple.
The home page of the DraftKings Sportsbook site displays current promotions and live game information. Unlike many sportsbook sites, the home page avoids over cluttering. There is a handy A-Z of sports to help find the wagers you are looking for. Once you select your sport, there will be a list of games that can be filtered by the different wagering options available. You bet slip is displayed to the right and divided into singles, parlay, and round robins. Bets can be added and removed with a single click, and once happy with your selection click "Place Bet."
The DraftKings DFS site is similarly well organized and easily navigable with the lobby displaying featured contests. Choose a sport from the top menu and the options to the left allow you to select the type of contest. You can also apply other filtering options such as entrance fees and the number of participants. Click on the competition for more information on prize pools and which games the contest covers, before drafting your team. When selecting athletes for your line-up, you can click on players names to see stats and relevant news.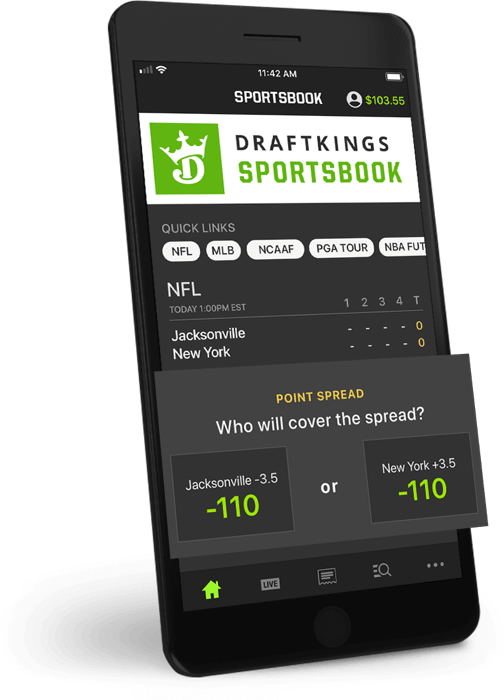 Mobile App
Alongside the desktop website, there is also a DraftKings Sportsbook and DraftKings DFS mobile app downloadable to your smartphone, allowing convenient betting on the go. You can download both apps from the App Store if you have an iPhone. For Android users, the DFS app is downloadable from Google Play. However, the DraftKings Sportsbook app will need to be downloaded directly from the operator by visiting the mobile version of the website.
The app recreates the desktop version of the DraftKings site allowing you to deposit and withdraw funds, place sports bets, partake in fantasy contests, and more from your mobile phone. The mobile app uses geolocation technology to ensure you are in a legal state when placing wagers. As both DraftKings DFS and DraftKings Sportsbook are legal in Colorado, you should have no problems in placing bets from anywhere inside state borders.
Customer Support
DraftKings Colorado has a range of customer support options if you are having difficulties navigating their website:
FAQ page on their site for all generic queries
Contest rules page for all DFS queries
Live online chat
Contact form on their website
Can be emailed at support@draftkings.com or sportsbook@draftkings.com
Can be telephoned on +1 (877) 659-6066
Most information can be found on the FAQ pages of the DraftKings website, so it is worth looking for answers to your questions here first before making contact via live chat, email, or telephone. Customer support is available 24 hours, seven days per week.
Round-Up
Overall, DraftKings is an excellent site for both DFS and sports betting. It offers a plethora of different types of wagers, contests, and sports coverage, and their easily navigable website and mobile app make for an enjoyable experience. With one of the most competitive welcome bonuses in comparison to other legal Colorado sportsbooks, DraftKings is an incredible option for placing sports wagers. The ability to toggle between DFS and sports betting also makes it a great all-round online gambling app. Sign up to take advantage of their offers and start winning real money today!
FAQs