The Double Eagle Hotel & Casino was established in 1996 and was Cripple Creek's first big casino, and remains one of the town's largest casino properties. Over two floors you will find over 450 slot machines, table games, three restaurants, and a 158-room hotel. It is a colorful space with an Art Deco design and a lively atmosphere, open 24 hours every day of the year!
Address: 442 E. Bennett Avenue, Cripple Creek, CO 80813
Opening Times: 24 hours, seven days per week
Hotel: Yes
Loyalty Program: Premiere Club loyalty program
Gaming: 462 slots and 3 table games
Restaurants and Bars: Lombard's Restaurant, Winfield's Restaurant, & the Double Down Deli
---
Casino Games
Slots and Video Machines
The Double Eagle Hotel & Casino has one of the largest selections of slot and video games in Cripple Creek, with a total of 462 machines spread over their two floors. Slots are inclusive of:
Penny Slots
Nickel Slots
Quarter Slots
Half Dollar Slots
High Limit Slots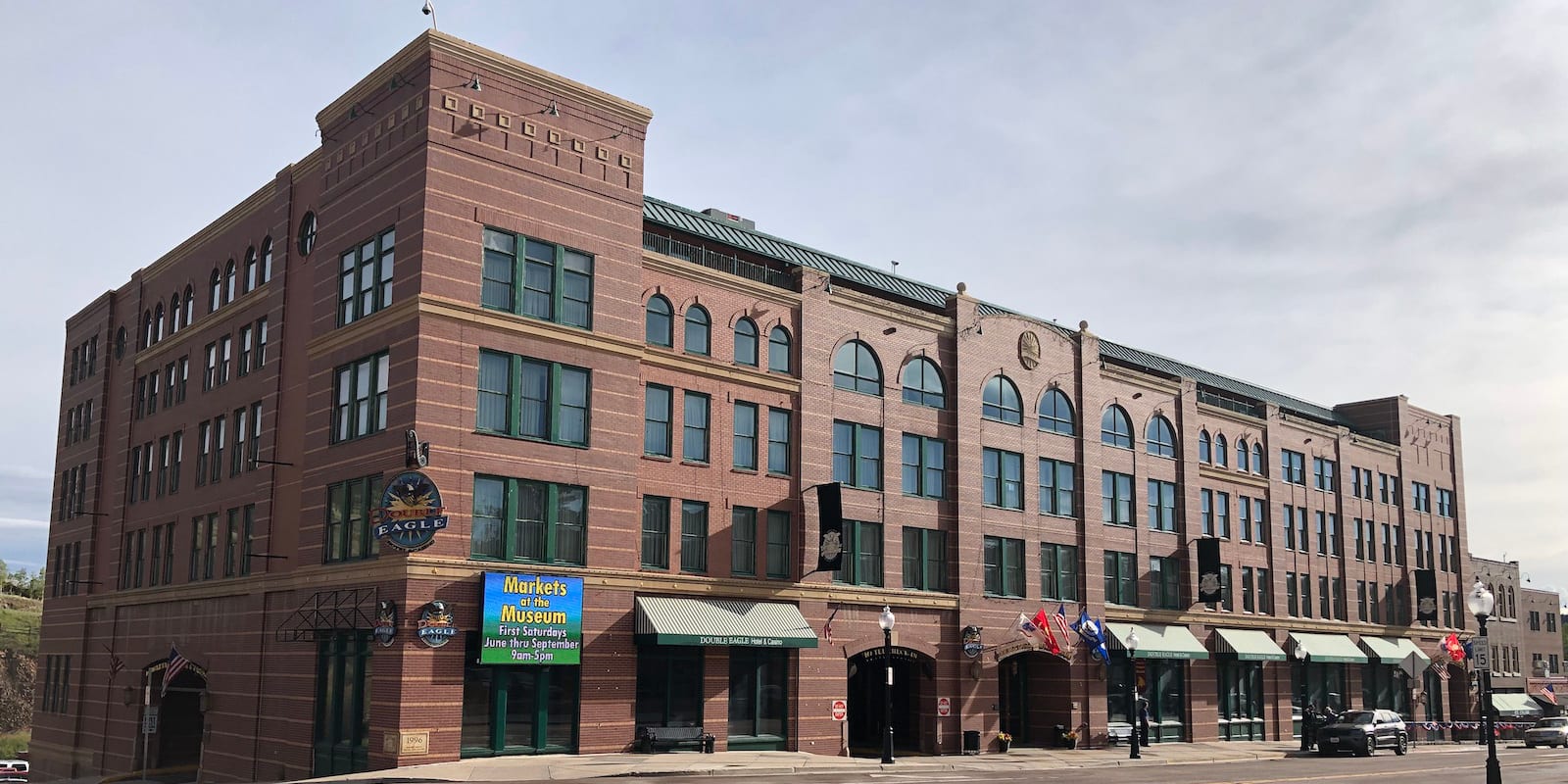 In the lower level of the casino, you will find video poker and video Keno, and you will also find several progressive jackpots located close to the bars for your chance to take home the big bucks! The high limit slots are located in the Premier Terrace, a recently renovated section of the casino. The casino also hosts bi-weekly slot tournaments on Monday and Thursday.
Table Games
On Friday, Saturday, and Sunday from 9am – 3am you can also play table games at the casino. You will find the table games on the first floor of the casino near the entrance. There are three tables on offer:
Blackjack
Buffalo Blackjack Bonus 2
Roulette
There are no Craps or poker on offer at the Double Eagle Hotel & Casino. Try heading to the Wildwood Casino for all table games, or the Midnight Rose Casino for a game of poker.
Casino Loyalty Program
The Premier Club is the name of the casino's loyalty rewards program. The membership program is free to join and all new members are given $10 complimentary free play if they accrue 50 points on the day of signup. Points are earnt through playing casino games. You can then exchange your points for free play in the casino, hotel stays, and food:
20 points = one entry into the Saturday Giveaway
100 points per day = $10 free food (expires in 24 hours)
100 points = $1 free casino play
250 points Sunday to Friday = a free one-night hotel stay in a standard room
They also have several ongoing weekly promotions and specials:
Double the Slot Tournaments: Runs at 11am and 3pm on Monday and Thursday. Players must earn 100 points to partake in one, or 200 points to partake in both tournaments. Winners receive $250 free play.
Saturday Giveaway: From 5pm every Saturday, $500 cash is given to a lucky winner every hour. If you earnt 20 membership points, entry is free.
Sportsbook Services
As of 1st May 2020, sports betting is now legal in Colorado! This is a recent change in legislation after a ballot named Proposition DD passed last November, permitting licensed and regulated operators to launch retail and mobile sportsbooks. The Double Eagle Hotel & Casino entered a partnership with PointsBet who will be behind both the onsite and online sportsbooks for the property. However, due to the global pandemic leading to mandatory casino closures and delays, there has yet to be a retail sportsbook launched. We should see this roll out onsite soon.
PointsBet will also be rolling out its mobile sports betting services in Colorado after the Colorado Limited Gaming Control Commission approved its license in March 2020. Legally, the app can launch as of 1st May 2020, but currently, nothing has been rolled out and a release date has not been given. PointsBet CEO Sam Swanell said that "It's unlikely May, that will probably come around a bit quickly… but we won't be far behind." Therefore, we should see the site launch and join the list of Colorado's live sportsbook mobile apps soon.
Hotel
As the name suggests, there is a hotel at the Double Eagle Hotel & Casino. There are 158 rooms ranging from their most basic accommodation to the Presidential Suite, providing a place to stay for every budget. Rooms sleep from 2-4 guests and are each equipped with free Wi-Fi, a flat-screen TV, coffee machines, and $12 breakfast credit for all adult guests.
If a Premier Club member, you can earn free stays in the hotel. If you earn 250 base points from Sunday to Friday, then you can stay in a standard room for free!
Dining and Bars
There are three sit-down restaurants as part of the Double Eagle Hotel & Casino. Lombard's Restaurant has a casual atmosphere and is located on the lower level of the property. It serves breakfast from 6.30am every morning where you are given a selection of traditional breakfasts, cinnamon rolls, and breakfast sandwiches. From 11am on weekdays and 12pm on weekends, they start serving their lunch and dinner menu which consists of salads, soups, and sandwiches, along with daily specials such as:
Taco Tuesday
Wok Wednesday
Prime Rib Saturday – if you are a Premier Club member you get this for a bargain of $8.99!
There is also a fine dining establishment, Winfield's Restaurant, which serves succulent steaks, king crab legs, and mouth-watering chicken and fish dishes. They also have an extensive wine list. The restaurant was awarded the 2019 "Diners Choice" Award by OpenTable! This spot is only open on Friday and Saturday evenings.
Lastly, the Double Down Deli is a more casual place to eat, both offering table service or takeout. They serve pizza and salads for lunch and dinner.
After the restaurants close, the casino bars remain open 24 hours, seven days per week. Here, you can purchase a range of soft and alcoholic drinks, along with sandwiches and snacks from their late-night menu.
Online Gambling
In Colorado, any form of online casino gambling for real money is illegal. Therefore, the Double Eagle Hotel & Casino does not offer any form of online casino gaming. However, the state has made sports betting legal as of 1st May 2020. They have partnered with online provider PointsBet to launch a mobile sportsbook which will be live in Colorado shortly.
FAQs