The Brass Ass Casino opened in 1995 and is one of the oldest casinos in Cripple Creek. You will find it inside a historic building that screams vintage with Western-style décor in line with its historic past. The casino is named after a wooden donkey in their table games room, one of the original pieces that were part of the 1893 World Exposition in Chicago.
Despite being an old casino in town, the Brass Ass offers over 200 modern slots and video machines and live-action table games 24 hours, every day of the week! Owned by Triple Crown Casinos, along with the Midnight Rose Hotel & Casino and McGill's Hotel & Casino, there is also a loyalty program that runs across all three of this Cripple Creek casino trio.
Address: 264 E. Bennett Avenue, Cripple Creek, CO 80813
Opening Times: 24 hours, seven days per week
Hotel: No
Loyalty Program: Triple Play Club loyalty program
Gaming: 232 slot machines and 12 table games
Restaurants and Bars: Miner's Pick
---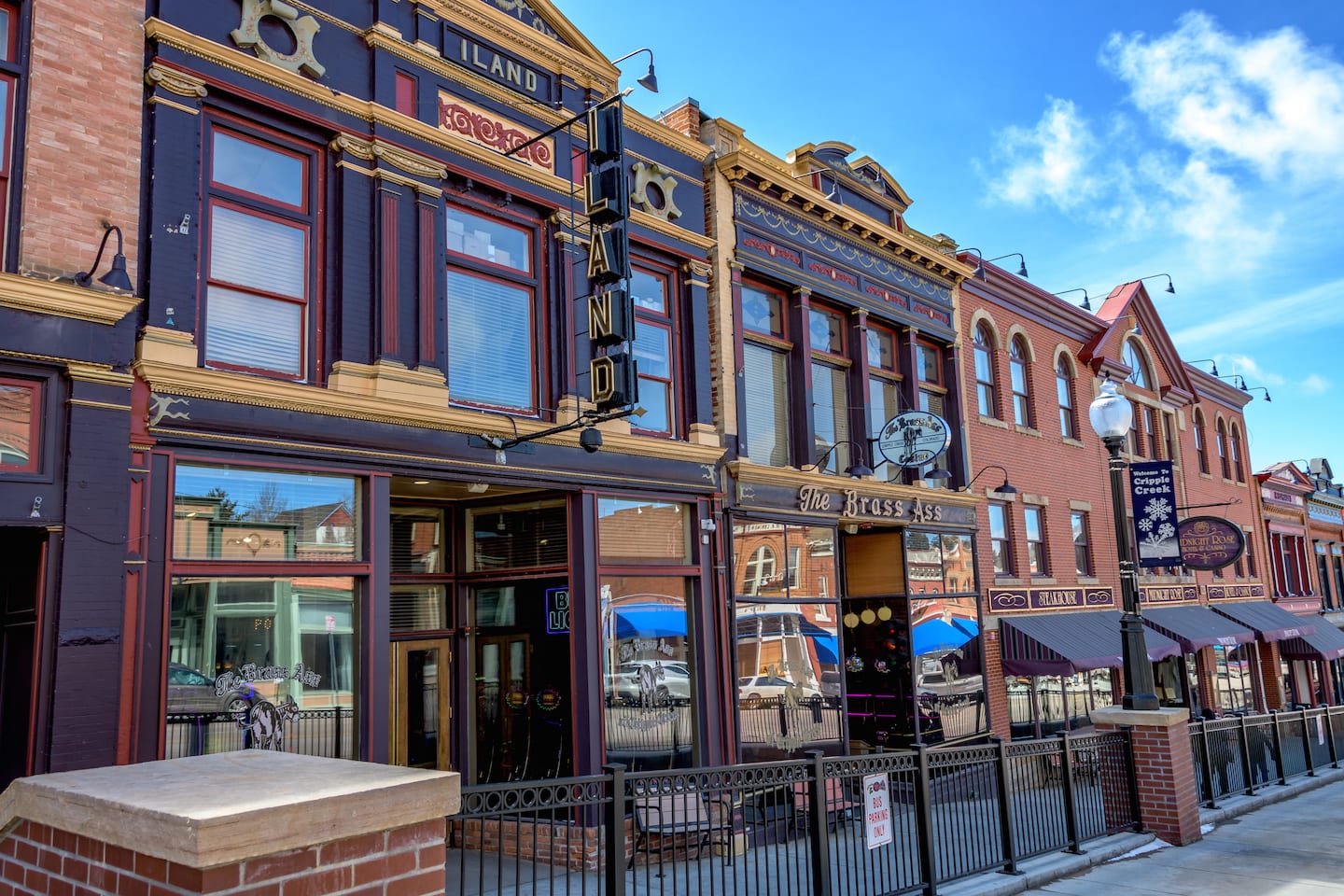 Casino Games
Slots and Video Machines
The Brass Ass Casino has a great selection of slots and video machines, offering you a choice of 232 different games. Despite being an older casino, they offer the most modern games packed with bonus features and extra chances to win, alongside classic reels. You will also find the most nickel slots at the Brass Ass compared to any other Cripple Creek casino.
Table Games
The table games area in the Brass Ass Casino is open 24 hours, seven days per week and offers the following games:
Blackjack
Craps
High Five Poker
Roulette
Three Card Poker
The Brass Ass Casino also offers same-day match play and is the only casino in town to offer this. What does this mean? All members of their Triple Play Club loyalty program accumulate match play as they place wagers on table games which can be exchanged for a match play coupon. When using your coupon, the casino matches your wager and increases your payout!
Unfortunately, there is no poker at the Brass Ass Casino. However, next door at the Midnight Rose Hotel & Casino you will find an 8-table poker room, so head there for a game.
Casino Loyalty Program
The Brass Ass Casino has a loyalty rewards program called Triple Play Club that Triple Crown Casinos offers over all three of its Cripple Creek properties. Membership is free and all new members are given $10 free play if they earn 200 points on the day of signup. Once a member you gain access to exclusive offers, benefits, free birthday play, and promotions. Every time a wager is placed in the casino, members earn points:
Slot machines: 1 point for every $2
Video poker: 1 point for every $2.50
Table games: Points dependent on length of play and wager placed
Points are exchanged for discounted and free food and hotel stays, casino merchandise, and event entry. As you earn points, you progress up through the program's four tiers. The higher your tier, the more benefits are accessible to you and the better discounts and more exclusive events you can attend. The tiers are as follows:
Purple: 0 – 20,000 points
Gold: 20,000 – 60,000 points
Platinum: 60,000 – 150,000 points
Triple Diamond: 150,000+ points
As Triple Crown Casinos runs its rewards program across all three of its properties, you can earn and exchange points at the Midnight Rose Casino and McGill's Casino as well.
Sportsbook Services
Sports gambling is now legal in Colorado! This is a recent change in legislation with the first online sportsbooks launching on 1st May 2020. All Colorado casinos are able to offer onsite and internet sports betting services providing they have the correct licensing. The Brass Ass Casino was one of the first properties to receive its master license, allowing it to provide a sportsbook. Due to mandatory casino closures, there has yet to be an onsite sportsbook release, but we will no doubt see this emerge once the casino opens up again to full capacity.
In regards to online sports gambling, the Brass Ass Casino has yet to partner with any internet operators to launch mobile sports betting. However, Triple Crown Casinos have partnered with ROAR Digital who have brought their BetMGM app to the state, and with Rush Street Interactive who have launched their BetRivers app. BetMGM and BetRivers are partnered with the sister properties, the Midnight Rose Casino and McGill's Casino, respectively. Both went live on 1st May 2020 as the first sportsbooks in Colorado. We may see the Brass Ass Casino directly link with a mobile sportsbook provider in the future to launch an online sports betting website and mobile app.
Hotel
Despite there being no hotel attached, both sister casinos have their own hotels attached and all three casinos are located side-by-side on the same street. Therefore, if wanting to stay at the Brass Ass Casino take a look at the hotels attached to the Midnight Rose Hotel & Casino and McGill's Hotel & Casino.
Currently, there is an expansion at the casino to build a new 150-room hotel attached to the Brass Ass Casino. This will be a five-story property and construction is due to be completed in late 2020 or early 2021, so we will see the casino's own hotel open shortly. The property will include:
Rooftop restaurant
Hot tubs
Fitness Center
Meeting Spaces
150 New Hotel Rooms
Dining and Bars
Miner's Pick is the only restaurant at the Brass Ass Casino which is open 24 hours, seven days per week. It is a great choice for grabbing a quick bite or for those wanting to get back to their machine. They offer pizzas, calzones, sandwiches, salads, soups, and more. As the restaurant is open day and night, you can eat any hour of the day!
Online Gambling
The Brass Ass does not offer any online slots or table games, as all forms of internet casino gambling for real money is illegal in Colorado.
On the other hand, sports gambling has recently been legalized in the state as of 1st May 2020. Triple Crowns Casino was one of the first casinos to have their sportsbook license approved and has formed a partnership with ROAR Digital and Rush Street Interactive. Their BetMGM and BetRivers sportsbook apps were launched in Colorado on 1st May 2020 and you can legally place sports wagers using their platforms. These sites are linked with the sister properties, the Midnight Rose Casino and McGill's Casino, but The Brass Ass Casino has yet to partner with any online operator. We can expect to see them form a partnership and bring an online sportsbook to the state shortly.
FAQs